Resorts

---
Paris Travel Guide
Paris Travel Guide
One of the top tourist destinations in the world, the city of Paris is glamorous, vibrant, romantic, playful and crammed full of fascinating places, great restaurants and beautiful things:
A vacation in Paris has always headed the must-do list for anyone contemplating a European holiday because it embodies style and charm and offers a variety of unique attractions, both ancient and modern. Paris brings out the romance in every soul. Art lovers, style buffs and gourmets are particularly well catered for if they holiday in Paris, while sightseers can indulge in world-famous attractions like the Eiffel Tower and Notre-Dame. Every few steps visitors will find something to point at or photograph in this busy city. Paris has a thrilling nightlife and the shopping is some of the best in the world.
Paris is also a great city to visit if you're travelling with children and families will enjoy the fantastic delights of Disneyland Paris and amusement parks like Parc Asterix, which are within easy reach of the city. Kids will also enjoy the many parks, forests and gardens within Paris.
Best time to visit Paris
Travel to Paris at any time of year and it will be a holiday to remember. Paris is notorious for its sudden rain showers, which can occur in summer or winter, but it is always possible to retreat indoors to explore the wonderful museums and galleries before emerging into the sunshine again to enjoy coffee and pastries at a pavement café. Many locals escape Paris in August when the heat can be oppressive and some restaurants close. Read more on Paris's Climate and Weather.
What to see in Paris
-Wander through the awe-inspiring galleries of The Louvre.
-See the tomb of Napoleon Bonaparte under the dome of Les Invalides.
-Visit the Pompidou Centre, the city's most popular attraction.
-Explore the magnificent palace of Versailles just outside of Paris.
What to do in Paris
-Stroll through the Jardin des Plantes and discover the many attractions of Paris's main botanical garden.
-Take an excursion to the palace of Fontainebleau.
-Marvel at the art in the incomparable Musee d'Orsay.
-Splash with the kids at Aquaboulevard on a hot day.
Beyond Paris
Paris is the perfect doorway to a number of regions of France, including the Loire Valley, with its many chateaux and gardens, Normandy, the military history enthusiast's dream destination, and Champagne Country, for lovers of France's famous bubbly. As the capital city Paris is easily accommodated on any travel itinerary of France, not least of all because it is easy to get flights into the city.
Getting there
Paris has two world-class international airports: Charles de Gaulle Airport (also called Paris Roissy Airport), located 14 miles (23km) northeast of Paris; and Paris-Orly Airport, located nine miles (14km) south of Paris. There are direct flights to Paris from various cities in the UK, New York and many European cities. Get more information on Airports in Paris.
Did you know?
-Paris has been nicknamed the 'city of lights', but lights originally referred to the number of intellectuals who live in the city.
-Jim Morrison and Oscar Wilde are both buried the Pere Lachaise cemetery in Paris.
-The Eiffel tower was originally intended to be a temporary monument which would eventually be dismantled and sold as scrap.
---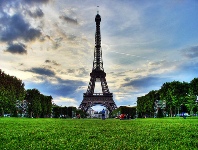 The Eiffel Tower © ainet
It is impossible not to fall in love with Paris. The city's people are stylish and flirtatious, its architecture seductive, its restaurants and nightlife devoted to the pursuit of pleasure and its streets are scattered with dreams.
There is no 'best time' to visit Paris; in every season the city is always alive. Summer days are spent lazing on the banks of the Seine, sipping coffee at a sidewalk caf�, or idling in one of the city's many gardens or forests. On autumn afternoons the brisk walk from the Eiffel Tower through the Parc du Champ de Mars and up to the glittering Champs Elys�es is accompanied with a carpet of leaves crunching underfoot. Winter nights induce a warm glow ice-skating in the outdoor rink at the Hotel de Ville. And in spring the passions of performers fill the air outside the Pompidou Centre and the nose is tickled with the subtle scents of flowering gardens.
There is an otherworldliness to this city, where beauty and elegance are favoured over purpose and practicality. Centuries of urban development have the appearance of having being mastered by a single hand with a strong sense of balance, contrast and aesthetics. The views from the Eiffel Tower or Sacr� Coeur reveal hundreds of iconic attractions for the snapshot visitor, but the best way to see this city is by tucking your map back in your pocket and allowing yourself to get lost on its streets and avenues, discovering the city for yourself.
However long you spend in Paris, on departure you will know you are sure to return.
Become our Paris Travel Expert
We are looking for contributors for our Paris travel guide. If you are a local, a regular traveller to Paris or a travel professional with time to contribute and answer occasional forum questions, please contact us.