United States of America

---

---

---

---
Savannah Travel Guide
Why? A holiday in Savannah is a journey back in time to an era of elegance and charm. The city is a delightful Southern Belle but she doesn't lack the ability to be a good time girl if the occasion warrants, as local gossips will be quick to relate to you. The historic core, with its 1,000-odd restored buildings, is a magnet for tourists who travel to Savannah intent on recapturing the genteel atmosphere of the Old South on walking tours through its cobblestone squares.
When? Being warm all year round, there is no best time to travel to Savannah, but the prettiest seasons weather and environment-wise are spring (when the city is in full bloom) and autumn (when the foliage is spectacular). Summer is very hot and humid, but if you want to hit the main events, August to September is a good time to holiday in Savannah.
Who for? Anyone who enjoys understated elegance, and has a good pair of walking shoes, will enjoy a holiday in Savannah exploring the historic neighbourhood, waterfront souvenir shops and restaurants, and spending relaxing evenings in jazz cafes.
More Info: If you are planning to take a holiday in Savannah consult our comprehensive Savannah travel guide, which lists all the major attractions and excursions to be enjoyed in the city. The guide is updated regularly and can be printed out to pack and take with you on your holiday in Savannah.
---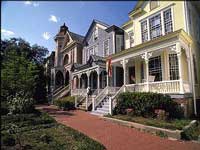 Victorian homes, Savannah © Georgia Department of Industry, Trade & Tourism
Credited as being the first planned city in the United States, Georgia's sultry city of Savannah is positioned on a bluff above the Savannah River, a few miles upstream from the Atlantic Ocean state coastline. This Southern belle is full of charm, and her old-fashioned hospitality and small-town atmosphere invites visitors to stroll back in time, right to 1733 when the city was first founded by British General James Oglethorpe with the permission of native Yamacraw Indian chief Tomo-chi-chi.
With one of the country's largest preserved historical urban areas, one can't help but experience a sense of this city's colourful past, as you stroll past grandiose mansions and Spanish moss-covered oaks, sipping mint juleps. The city's legacy as a major player in the cotton industry is still evident in the Savannah Cotton Exchange, and the Pink House, dating back to 1789 and home to Georgia's first bank also bears testimony to the economic prosperity of the region. Apart from hundreds of architecturally significant buildings Savannah is also not lacking in restaurants, shops (particularly fine antique stores), Civil War forts, museums, galleries, quaint squares and lovely beaches, all earning it the nickname, 'the Hostess City of the South'.
Strategically positioned on the north of the Georgia coastline, Savannah serves as an excellent starting point for exploring the scenic barrier islands, resort towns and inlets found along the coast. Of course it is also imperative one try the region's world-famous shrimp that is caught and cooked in a variety of ways.
Become our Savannah Travel Expert
We are looking for contributors for our Savannah travel guide. If you are a local, a regular traveller to Savannah or a travel professional with time to contribute and answer occasional forum questions, please contact us.