Cephalonia Travel Guide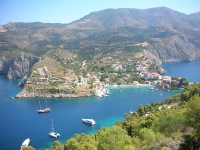 Assos, Cephalonia © Ulrike Wegner
Cephalonia (or Kefalonia), named after a Greek hero from around the 5th century BC, lies in the centre of the Ionian Sea, 53 nautical miles from Patras. This is one of the most enchanting of the Greek islands, which accounts for its having become one of the most sought after by holidaymakers. Thousands of visitors descend on the island year round, avid for the quiet, windless beaches, many at the base of steep cliffs that plunge into the sea, or to explore the verdant mountainsides clad in shadowy forests.
Cephalonia has an excellent tourist infrastructure, is connected to Athens by air (the airport is situated just south of the ancient capital of Argostoli) and to Patras and surrounding islands by ferry. In addition to some spectacular golden beaches, Cephalonia boasts numerous historic and natural attractions. Best known of these are the caves at Melissani, where a subterranean lake reflects a kaleidoscope of gorgeous colours; the enormous caverns of Dragostoli; and the 'swallow holes' where visitors marvel at the phenomenon of seawater literally disappearing through the rock.
The beautiful city of Argostoli, the island's capital since ancient times, was largely destroyed by an earthquake in 1953, but among the remains are the fascinating archaeological and folk art museums. The island's main town, Lixouri, is peaceful and picturesque, situated close to the south coast where the best beaches are to be found. Visitors to Cephalonia are never at a loss for an entertaining way to spend their time. There are quaint villages, traditional fishing harbours, Roman ruins, architecturally marvellous churches and castles, and magnificent views to discover.
Become our Cephalonia Travel Expert
We are looking for contributors for our Cephalonia travel guide. If you are a local, a regular traveller to Cephalonia or a travel professional with time to contribute and answer occasional forum questions, please contact us.