Corfu Travel Guide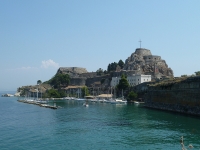 Corfu © rob.sandbach
The island of Corfu, best known of the seven Ionian islands that lie off the northwest coast of Greece, differs markedly from the other popular Greek islands because not only is it green and lush, but also very developed with tourist resorts and hotels. Summertime is hectic on Corfu, with charter flights arriving daily from European cities, ferries disgorging travellers from Italy, and cruise ships docking.
There is plenty to draw visitors to this magical island, also known as Kerkyra. Modern Corfu Town is upbeat and cosmopolitan, offering an exciting conglomeration of Greek, Italian, French and British influences. The old town was laid out by the Venetians in the 14th century and features narrow alleys lined with multi-storied, pastel-coloured buildings with red tiled roofs, creating a scene reminiscent of Italy. The hub of activity in the town centre is the Liston, an arcaded row of cafes and restaurants, copied from the Rue de Rivoli in Paris.
Those wishing to escape from the melee in the town can head for the interior to enjoy some spectacular scenery and greenery. Corfu has, for instance, 43 different kinds of orchids growing wild in the countryside, and there are countless olive groves. Finally there are, of course, the beautiful beaches washed by the sparkling Ionian Sea, and it is still possible to search out a secluded cove or two even in the busy season when the over-developed resorts on the east coast are awash with package tourists.
Become our Corfu Travel Expert
We are looking for contributors for our Corfu travel guide. If you are a local, a regular traveller to Corfu or a travel professional with time to contribute and answer occasional forum questions, please contact us.