Kalamata Travel Guide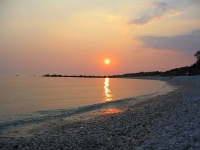 Kalamata Sunset, Greece © Oliver Deisenroth
Kalamata is the second largest city of the historically rich Peloponnese Peninsula and the capital of the picturesque Messinia region. With its international airport and a busy port, Kalamata is an important hub for those planning to explore the local area.
Built on the site of the ancient city of Pharai, on the lovely Messinian Bay, Kalamata promises tourists stunning local beaches, good restaurants and markets, and a handful of historic attractions. Some of the city's ancient sites were damaged by an earthquake in 1986, but Kalamata retains an interesting old city centre, characterised by narrow pedestrianised streets. Popular tourist attractions in Kalamata include the Holy Apostles Church, built in 1317, the Benakeion Archaeological Museum, which houses some fascinating antiquities from the region, and the remains of Kalamata Castle in the acropolis overlooking the city.
Most sightseeing in Kalamata centres on the historic centre and visitors seldom need more than a day or two to take in the city's charms, but the surrounding region is so rich in history and scenic appeal that a long holiday could happily be spent based around Kalamata.
Don't leave without trying the local honey and the world-renowned Kalamata olives.
Become our Kalamata Travel Expert
We are looking for contributors for our Kalamata travel guide. If you are a local, a regular traveller to Kalamata or a travel professional with time to contribute and answer occasional forum questions, please contact us.