Kos Travel Guide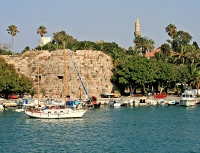 Kos © Karelj
This lovely island of the Dodecanese group has been taken over almost completely by tourism, catering especially for family holidays. Aside from the draw of beautiful beaches, Kos has an abundance of interesting ruins to explore, and is easily reached from Rhodes or Bodrum (Turkey) by ferry. Kos was prominent in antiquity because of its healing temple of Asclepius, founded after the death of the famed physician Hippocrates, who allegedly taught students on the island.
Kos also features the remains of temples for other healing deities, including Isis and Sarapis, and appears to have historically been an island healing retreat. The island boasts a tree that is reputedly the oldest in Europe and Hippocrates is said to have held lecture sessions in its shade. It also has several archaeological remains of Persian, Turkish, Roman and Byzantine conquerors that all added their bit of splendour (and turmoil) during the island's long history. Kos has busy bars and an entertaining nightlife, and there are some pleasant towns and beaches outside the capital, but those looking for empty beaches should head for quieter islands. The main beach in Kos Town is narrow and pebbled, but nearby Tigaki is six miles (10km) of pure white sand. Lambi, Psalidi, and Agios Fokas are all popular beaches a short distance away.
Become our Kos Travel Expert
We are looking for contributors for our Kos travel guide. If you are a local, a regular traveller to Kos or a travel professional with time to contribute and answer occasional forum questions, please contact us.