Resorts

---
Lesvos Travel Guide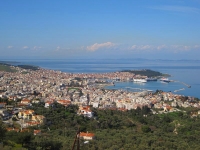 Mytilene, Lesvos © Koutrolm
Lesvos (alternatively spelt Lesbos), the third largest of the Greek islands, is a little different from the rest, being largely self-sufficient thanks to its commerce in olive-growing and fishing. Despite being a popular summer holiday destination it remains unspoilt and natural, untainted by most tourist trappings, and its size precludes it from becoming overcrowded or claustrophobic like some of the other Greek resort islands.
Situated in the Aegean, Lesvos is very close to the Turkish coast and well connected by air and sea to Athens and Thessalonika, as well as some of the other Ionian Islands like Rhodes and Kos.
The delightful island is encircled with quaint fishing villages and pale gold sandy beaches, while inland the fertile soil is rich with olive groves, the uplands covered in pine and holme oak. Two gulfs, which penetrate deep into the interior of the island, provide for an interesting, sheltered coastline.
The main town on the island is Mitilini, a city of about 30,000 inhabitants clustered around its well-preserved Byzantine castle. The favourite spots for holidaymakers, however, are the northern village of Molivos; the south coast town of Plomari (where it is reputed the finest ouzo in the world is still made); and Sigri, at the western tip, near the world's largest petrified forest.
Apart from beautiful, secluded beaches and superb opportunities for walking and bird-watching, Lesvos has relics of a long and proud history to explore. The island has been inhabited since the Bronze Age, and rose to glory particularly around the 6th century BC when it was rivalled only by Athens as a great centre of civilisation, home to the legendary poets Sappho and Alcaeus.
Lesvos is known as the birthplace of the ancient poet Sappho, and in recent years tourism has increased for lesbian and all-female tour groups who come to pay homage. Lesvos is known as a gay-friendly island, and resorts like Skala Eressos are focused on women-only holidays.
Today it is easy for visitors to wax poetical when enjoying the serenity of this beautiful lush island with its balmy Mediterranean climate.
Become our Lesvos Travel Expert
We are looking for contributors for our Lesvos travel guide. If you are a local, a regular traveller to Lesvos or a travel professional with time to contribute and answer occasional forum questions, please contact us.