Patmos Travel Guide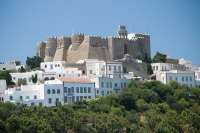 Patmos © kellinahandbasket
The small island Patmos is off the beaten path for most people on holiday in Greece. Its location in the north of the Dodecanese Archipelago is out of the way for most tourists, who miss out on the island's peaceful and almost ethereal atmosphere, and lovely landscapes.
Most of Greece is filled with shrines and temples to various Greek gods and goddesses like Poseidon and Athena, but Patmos' religious affiliations are more exclusively Christian. The island is home to around 300 churches scattered in villages and on hillsides, and Greek Orthodox icons gaze at you from nearly every wall (also making the most popular Patmos souvenirs).
Patmos' devout aura is partly due to its biggest attraction, the Cave of the Apocalypse, which is where the Apostle John is said to have written the Book of Revelations. The apostle was exiled on Patmos for several years, and supposedly founded the monastery there that bears his name: The Monastery of St John.
The main towns on Patmos are Skala and Hora. Both are charming villages with rows of whitewashed houses and 17th to 18th-century mansions. Visitors should be respectful of the traditions and beliefs of the local population, and dress modestly (women are required to wear long skirts and cover their shoulders, while men must wear long pants). Patmos lacks any sort of nightlife or rowdy attractions, but offers tourists in Greece a glimpse at a simpler way of life that many miss.
Become our Patmos Travel Expert
We are looking for contributors for our Patmos travel guide. If you are a local, a regular traveller to Patmos or a travel professional with time to contribute and answer occasional forum questions, please contact us.