Resorts

---
Peloponnese Peninsula Travel Guide
Peloponnese Peninsula travel Forum
---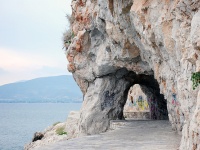 Nafplion © Harvey Barrison
The southern part of mainland Greece, known as Morea, consists of the large Peloponnese Peninsula, now divided from the mainland by the Corinth Canal. The Peloponnese was the ancient stomping ground of mythological heroes such as Hercules, Sisyphus, Callisto, Electra and Perseus. Nowadays, the peninsula plays host to virtually every tourist that comes to Greece with historical sightseeing in mind, because most of the country's important and imposing ancient sites are found on its landmass, dominated by two mountain ranges, the Taygetos and Parnon. The Olympic torch is still ritually lit at Olympia by a high priestess, just as it was in ancient times, and carried across the continents of the world to the host country to mark the start of the Games.
Besides the ancient ruins at Sparta, Monemvassia, Corinth, Mycenae and Epidaurus, the fertile coastal strip of the Peloponnese also serves as Greece's market garden and centre for wine production. Many tourists enter Greece by sea from Italy and other Mediterranean ports through the Peloponnese port of Patras, the third largest city in Greece.
The peninsula is also a playground for the Greeks themselves. Summer sees thousands of Athenians heading south at weekends to enjoy the many seaside resorts and beaches of the Peloponnese.
Buses and trains link Athens with the Peloponnese and all main towns on the peninsula. There is regular public bus transport between towns and major sites of interest, but a newly improved road system means that travel by car is the fastest and most efficient way of getting around. Taxis are easy to hire in the towns or between sites and run on a share basis, so other passengers may be picked up for the journey.
Become our Peloponnese Peninsula Travel Expert
We are looking for contributors for our Peloponnese Peninsula travel guide. If you are a local, a regular traveller to Peloponnese Peninsula or a travel professional with time to contribute and answer occasional forum questions, please contact us.