Resorts

---

---

---

---
Rhodes Travel Guide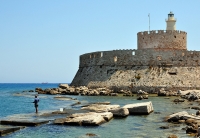 Rhodes © xlibber
In the days of old, knights found the island of Rhodes, close to the Turkish shore at the merging of the Mediterranean and Aegean seas, and set it up as a fortress to protect the Christian west from the invasion of the 'heathens' from the east. Today the island, the main one of the 12 making up the Dodecanese group, is still subject to invasion but now the intruders are tourists; they come to revel in what is reputedly the sunniest Greek island, and to have fun in the medieval city the knights left behind.
The town of Rhodes, on the northern point of the island, has preserved its picturesque walled old city as a playground for visitors. In ancient times the harbour here was guarded by the legendary Colossus of Rhodes, one of the Seven Wonders of the World, but now some statues of deer have taken its place. Nevertheless the old part of the city has plenty of wonders still to offer and the modern part of the town is just as vibrant.
The rest of the relatively large island offers miles of beaches, interesting archaeological sites and natural beauty spots. The best beaches are on the east coast, between Faliraki and Lindos. Lindos is renowned as a particularly picturesque town that has been designated a protected historic settlement; Faliraki, on the other hand, is a developed resort area bustling with young visitors.
Become our Rhodes Travel Expert
We are looking for contributors for our Rhodes travel guide. If you are a local, a regular traveller to Rhodes or a travel professional with time to contribute and answer occasional forum questions, please contact us.