Samos Travel Guide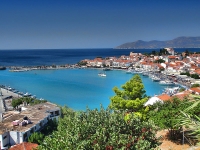 Pythagorio, Samos © Nikos Anastasiou
The easternmost island of the Aegean, Samos was one of the first Greek islands to take advantage of the package tour boom that began in earnest in the 1980s. Today it has become 184 square miles (477 sq km) of holiday resort, its beaches dotted with sunbeds and encircled by hotel rooms, and its waterfronts lined with tavernas, bars and cafes. Tourism may be booming, but that does not mean that this lovely island has lost its traditional charm, its laidback feel, or its scenic beauty. The very fact that it remains such a popular destination testifies to the fact that it has a great deal to offer the holidaymakers who come to enjoy themselves each year, many returning again and again.
In ancient times, when the great mathematician Pythagoras was born here in the 6th century BC, Samos flourished, as evidenced by the now few remains of its magnificent architecture, which included a temple and marble paved road lined with 2,000 statues (now largely covered by the airport runway). The course of its more modern history has seen the island in a tug of war between Greece and Turkey, but since 1913 Samos has been indisputably Greek.
Samos town curls around a semi-circular bay with its pretty pastel-coloured buildings rising in tiers up a green hillside from its busy, and somewhat tacky touristy waterfront. Numerous other coastal towns and villages encircle the island, all offering holiday accommodation. Inland there are some delightful mountain villages with picturesque alleyways and friendly locals, which, out of season anyway, seem delightfully unspoilt by mass tourism.
Samos has always been known as being blessed with natural beauty, and this has not changed. The dramatic, indented coastline is dotted with sand and shingle coves, while inland the slopes of the mountains and hills are covered in vines and verdant forest.
All in all, for a classic Aegean summer holiday with hot weather, lively tavernas, sights to see, shops to browse and a selection of good beaches, Samos comes up trumps.
Become our Samos Travel Expert
We are looking for contributors for our Samos travel guide. If you are a local, a regular traveller to Samos or a travel professional with time to contribute and answer occasional forum questions, please contact us.