Santorini Travel Guide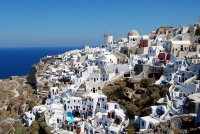 Santorini © Harvey Barrison
Not only is Santorini one of the most beautiful islands in the world, it is also geologically and archaeologically one of the most dramatic. The island, which is also called Thira, is shaped like an enormous pair of jaws encircling a lake filled with pure blue water. This is the core of an ancient volcano, which according to legend destroyed the lost continent of Atlantis when it blew its top about 3,600 years ago, burying the ancient city of Akrotiri (now being excavated) under tons of ash and sending out tidal waves that inundated other landmasses.
The island's two towns, Fira and Ia, are perched on the cliff tops of the highest part of the island. Ferries arrive and depart in the harbour below, and visitors walk or ride donkeys up the steep winding path to the towns. The towns are equipped with hotels, good restaurants, bars and plenty of nightlife to keep tourists happy while they relax between visiting the archaeological remains of ancient Thira, dating back to the 9th century BC, on the east side of the island. Other attractions include the excavations at Akrotiri, an archaeological museum, and an 18th-century monastery. Santorini has two swimming beaches, Perissa and Kamari, both characterised by their volcanic black sand.
Become our Santorini Travel Expert
We are looking for contributors for our Santorini travel guide. If you are a local, a regular traveller to Santorini or a travel professional with time to contribute and answer occasional forum questions, please contact us.