Saronic Gulf Islands Travel Guide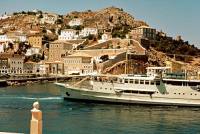 Saronic Gulf, Greece © Serendigity
Located a stone's throw away from Athens and the famous Peloponnese Peninsula, the Saronic Gulf Islands are wildly popular as weekend holiday destinations for the Greeks themselves. Crowded to the point of madness in the peak July and August season, the islands of the Saronic Gulf are also gaining popularity with American and British tourists looking for a quick island getaway while on holiday in the Greek mainland.
The most popular islands in the Saronic Gulf are Aegina, Poros, Hydra and Spetses, although lesser-known islands like Agistri, Salamis, Patroklou, Vleves and Dokos have their own charms, and are often less crowded.
Day cruises from Athens' port of Piraeus shuttle tourists back and forth with daily services to many ports, making getting to the Saronic Gulf Islands incredibly easy and reasonable for those travelling on a budget. Package tours stop at as many as three islands per day; however, these can be rushed and leave visitors unsatisfied with only a cursory glance at the diverse towns and landscapes on the islands. It is better to decide on one or two islands and explore them properly, enjoying their traditional charms, natural splendour and fun holiday atmosphere. The islands are arguably at their best in early autumn and late spring, as the heat and crowds of peak summer can be a bit overwhelming.
Become our Saronic Gulf Islands Travel Expert
We are looking for contributors for our Saronic Gulf Islands travel guide. If you are a local, a regular traveller to Saronic Gulf Islands or a travel professional with time to contribute and answer occasional forum questions, please contact us.