Resorts

---
Thassos Travel Guide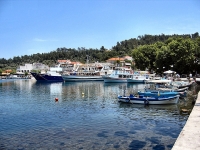 Thassos Town Harbour © Ronald Saunders
The package tour companies have only recently started to invade Greece's most northerly island, the emerald Macedonian isle of Thassos, close to the mainland port of Kavala in the Aegean Sea. Those seeking a true Greek Island getaway can still find some traditional tavernas, interesting archaeological sites, picturesque villages and beautiful sandy beaches washed by crystal clear water. The locals are fast learning to cash in on the tourist trade, however, and resort hotels are springing up as ferries disgorge the crowds during the height of the summer season.
Historically Thassos is one of the richest of the Greek islands. It was inhabited as far back as 2000 BC, home to the Thracians up until the Phoenicians, drawn by the wonderful climate, rich pine woods and white marble, colonised it in 1500 BC. The Greeks arrived about 700 years later, staging a peaceful takeover, and the Romans followed. All left their legacy in the form of archaeological sites, which today provide plenty of interesting excursions for visitors.
The capital and main port is the city of Limenas, which is not particularly inviting, but has a pretty old harbour sporting colourful fishing boats and traditional tavernas. Within easy reach of Limenas are the lovely little villages of Panagia and Potamia, overlooking the sandy Golden Beach and the long, inviting crescent of Skala Potamias. A little further away is the quieter village of Kinira with its pebbled beach, and the pinewood-ringed Paradise Beach, frequented by nudists. On the south coast, at Aliki, lies a peninsula forming two magnificent bays, also the site of ancient marble quarries.
The most popular tourist resorts hug the southwestern coast, near the town of Limenaria, but further along the west coast are a series of quaint fishing villages, interspersed with lovely beaches and coves. Inland, old mountain settlements charm with narrow cobbled streets and cafes on the village square. Those tired of the more well-worn Greek destinations will find Thassos refreshing.
Become our Thassos Travel Expert
We are looking for contributors for our Thassos travel guide. If you are a local, a regular traveller to Thassos or a travel professional with time to contribute and answer occasional forum questions, please contact us.