Antigua Guatemala Travel Guide
Antigua Guatemala travel Forum
---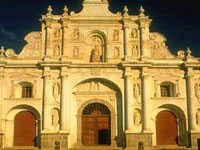 Antigua ©
Antigua in Guatemala is one of the oldest and prettiest colonial cities in Latin America, situated in a valley between three volcanoes. The setting is beautiful but hazardous, the town having experienced 16 earthquakes, frequent floods and a number of fires. It was the country's capital until 1776 when, after sustaining severe damage in a series of devastating earthquakes, the capital was moved to the present day Guatemala City, 30 miles (48km) away.
In colonial times Antigua was considered to be one of the most splendid cities of the Spanish Empire and was the principal city in Central America. Today it remains an enchanting place with remnants of a prosperous past. It is a delight to wander down the quaint traffic-free cobbled streets, past single storey multi-coloured buildings and mansions, magnificent churches, monasteries and convents. Plazas, inner courtyards and fountains are pretty reminders of the Spanish legacy. The town has been protected as a UNESCO World Heritage Site and is a popular destination for visitors. Buildings of interest include the Iglesia de San Francisco, La Merced and the Las Capuchinas.
Antigua becomes extremely busy during the Easter celebrations of Semana Santa, when people from all over the region flock to see the colourful street processions. The rest of the time it has a relaxed and convivial atmosphere with a strong indigenous culture, prevalent in the Sunday market. It is also a popular place to learn Spanish at one of the many language schools, and most students are able to stay with a local family as part of the learning experience. For the more adventurous the three volcano peaks offer superb hiking opportunities and views, and many tour operators in town offer trips to the surrounding countryside, as well as excursions to the only active volcano in the region, Volcán Pacaya. Villages nearby, like San Antonio Aguascalientes, offer visitors a closer look at indigenous life and are centres for beautiful hand-woven textiles.
Become our Antigua Guatemala Travel Expert
We are looking for contributors for our Antigua Guatemala travel guide. If you are a local, a regular traveller to Antigua Guatemala or a travel professional with time to contribute and answer occasional forum questions, please contact us.
Intrepid Travel is one of the world's leading suppliers of small group adventures focused on getting off the beaten track and having real life experiences in Guatemala.

ADVERTISEMENT
---