Guatemala City Travel Guide
Guatemala City travel Forum
---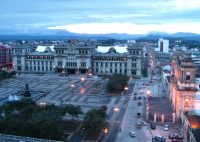 Guatemala City © Christian Van Der Henst
The largest city in Guatemala and Central America, Guatemala City is a bustling metropolis of around three million people. However, it has a feeling more of a small town, with the city loosely divided into 20 'zonas'.
Ornate buildings dating back several hundred years give the city a period feel, with many antique churches and government buildings like the Palacio Nacional worth seeing from the inside and out. This gives Guatemala City an attractive look to make up for its lack of natural beauty.
Guatemala City is also the most modern city in the country, playing a role as the administrative, economic, and cultural capital of Guatemala, with a variety of restaurants, shops, art galleries, theatres, museums, hotels and other attractions to keep visitors entertained. The hotels and nightlife in Zona Viva and Cuatro Grados Norte are particularly popular with visitors.
Despite its vibrant arts scene and attractive facade, many travellers avoid Guatemala City due to the high crime rate, opting to head for Antigua or Monterrico instead. However, travelling to Guatemala City is relatively easy because most lines of transport connect there, so a convenient city break in Guatemala City can add a lot to a holiday in Guatemala.
Become our Guatemala City Travel Expert
We are looking for contributors for our Guatemala City travel guide. If you are a local, a regular traveller to Guatemala City or a travel professional with time to contribute and answer occasional forum questions, please contact us.
Intrepid Travel is one of the world's leading suppliers of small group adventures focused on getting off the beaten track and having real life experiences in Guatemala.

ADVERTISEMENT
---