Lake Atitlan Travel Guide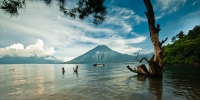 Lake Atitlan © Christopher William Adach
Santiago Atitlan is a quiet but strong community surrounded by forested slopes and three distinctive volcanoes at what many people have dubbed the most beautiful lake in the world, Lake Atitlan. Not only is Lake Atitlan scenically spectacular, the lake and hillside settlements are also rich in Mayan culture.
Some of the villages in the area are the only ones in the country where people still wear traditional clothing in day to day life, with each village sporting its own distinctive style and colour of densely embroidered dress.
The people are famous for their artisan crafts and the design and colour of the textiles, distinguishing one village from the other. The hues blend into an artisanal mosaic on market days, when villagers from around the lake gather to sell their products. The Friday market at Sololá is one of the best in the highlands.
Around the lake are the main tourism centres of Panajachel and San Pedro La Laguna, with lots of accommodation, small restaurants, and craft shops. Santiago Atitlan is one of the most important cultural villages along the shore, with a strong attachment to ancient Mayan culture and religion. There are good hikes around the lake as well as various water sports and excellent spots for swimming or relaxing at the water's edge.
Become our Lake Atitlan Travel Expert
We are looking for contributors for our Lake Atitlan travel guide. If you are a local, a regular traveller to Lake Atitlan or a travel professional with time to contribute and answer occasional forum questions, please contact us.
Intrepid Travel is one of the world's leading suppliers of small group adventures focused on getting off the beaten track and having real life experiences in Guatemala.
ADVERTISEMENT
---