Hong Kong City Travel Guide
Hong Kong City travel Forum
---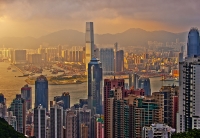 Hong Kong © Mike Behnken
The challenge of a holiday in Hong Kong is to have enough time to fit in all the aspects of this exciting city of contrasts. There are some things not to be missed during a Hong Kong holiday, and these include the food, the superlative shopping, a cruise to the outlying islands, and spending some quiet moments in the natural setting of a peaceful park. There is nowhere on earth quite like Hong Kong, which is reason enough for anyone to travel here.
Hong Kong perches on the edge of mainland China, occupying an anomalous position as a territory straddling two worlds. Since the handover in 1997 Hong Kong has become a 'Special Administrative Region of China' and no longer a subject of colonial sovereignty. Past and present fuse to create a capitalist utopia embedded within the world's largest Communist country.
Hong Kong offers a dense concentration of stores and shopping malls with a cross-pollinated, cosmopolitan culture that embraces Nepalese and British cuisines with equal enthusiasm. It is the perfect gateway for travellers to Southeast Asia and China, providing a smooth transition from west to east. As one of the key economies of the Pacific Rim, Hong Kong Island showcases a gleaming landscape of skyscrapers and boasts highly developed transport infrastructure that makes commuting around it a dream.
Hong Kong consists of four sections: Kowloon, Hong Kong Island, the New Territories, and the Outlying Islands. Kowloon and the New Territories form part of the Chinese mainland to the north of Victoria Harbour. Hong Kong Island, containing the central business hub, lies on the southern side of the harbour facing Kowloon. The Outlying Islands region consists of 234 islands.
Become our Hong Kong City Travel Expert
We are looking for contributors for our Hong Kong City travel guide. If you are a local, a regular traveller to Hong Kong City or a travel professional with time to contribute and answer occasional forum questions, please contact us.