Eger Travel Guide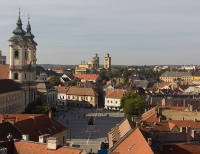 Eger © Nikky
The name of Eger represents, for every Hungarian, the story of determined patriotism, when the outnumbered heroic defenders in the fortress, led by István Dobó, held out against the Turks in their initial attack in 1552.
Eger is a paradise for historical sightseers and contains something like 200 historical monuments. In addition to all of these attractions, it is a picturesque place with a small, pedestrianised town centre that features many brightly painted houses with iron balconies lining narrow, twisting streets. Ornate lampposts and hanging baskets of flowers decorate the cobbled lanes and squares and sculptures representing the battle against the Turks are a proud reminder of the victorious saga.
Eger sits at the centre of the wine-growing region of northern Hungary. This enchanting town, along with its famous history, is where the much-publicised Egri Bikavér, or Bull's Blood, has its origins - the strong, fiery and spicy red wine that is characteristic of the area. Wine growing has been part of its history since the 11th century, started by the monks and continued during the Turkish occupation as an important source of income for the Turks. Wines can be tasted in the centuries-old wine cellars of the Szépasszony Valley (Valley of the Pretty Woman) on the southern edge of town.
Eger is a colourful town known not only for its history, mellow charm and vineyards, but also for its thermal baths. Visitors looking for a bit of time-out can unwind in the peaceful Archbishop's Garden, a leafy park enclosing swimming pools and hot Turkish baths.
Become our Eger Travel Expert
We are looking for contributors for our Eger travel guide. If you are a local, a regular traveller to Eger or a travel professional with time to contribute and answer occasional forum questions, please contact us.