Lake Balaton Travel Guide
Lake Balaton travel Forum
---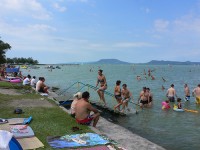 Lake Balaton © Heather Cowper
Lake Balaton is the largest freshwater lake in Europe and the most popular vacation region in Hungary. Lining both shores of its 48-mile (77km) stretch are many towns and resorts, and the north and south shores are distinctly different in character offering something for everyone.
The south shore is thronged by a string of characterless holiday resorts and high-rise buildings where crowds of young people congregate for a hedonistic holiday of sun and fun. Besides the pretty beaches and good swimming, there are numerous land and water-based activities, and at night the discos pulse until the early hours. Siófok is the largest and busiest resort and it dominates the southern shore during the summer months, but it is completely dead in winter.
By contrast the northern shore has limited waterfront development due to its deeper, colder waters and reed beds; its attractions are of an historical and cultural nature rather than activity-centred. Although there are resorts here, it is a destination for those travellers looking for less ostentatious showiness and rather more in the way of scenery, interesting towns and sights, and mineral spas, complemented by the fine wines from the nearby hills of Badacsony. Many of the villages on the shores of the lake have a number of medieval ruins and fortresses.
Lake Balaton has been a popular recreation area since the Roman times when the aristocracy built villas and set up health spas here. It was also a famous winegrowing region and the graceful rolling hills, cool water and warm sunshine still provide the perfect setting and climate for both vacations and vineyards.
Become our Lake Balaton Travel Expert
We are looking for contributors for our Lake Balaton travel guide. If you are a local, a regular traveller to Lake Balaton or a travel professional with time to contribute and answer occasional forum questions, please contact us.