Reykjavik Travel Guide
Why? With its many unique attractions, Iceland has become the new 'in' destination, so no wonder more and more visitors are flocking to holiday in Reykjavik, its capital city. Apart from crisp, clean air and natural hot springs, Reykjavik offers a notoriously raucous nightlife scene and some enjoyable sightseeing in its old city centre. The main reason most travel to Reykjavik, however, is to take excursions out of the city to natural hot attractions like the Blue Lagoon and Geysir.
When? Despite experiencing snowy, cold and dark winters, Reykjavik can be said to be a year-round destination. The warm summer months when the sun barely sets are the best time to travel to Reykjavik, but an increasing number of visitors are opting to holiday in warm-hearted Reykjavik for the New Year festivities, snow sports and the novelty of swimming in hot springs. If you want to catch the spectacle of the northern lights travel to Reykjavik between September and March and hope for a clear, cold night.
Who for? A holiday in Reykjavik is a memorable and delightful experience for anyone and everyone who enjoys spending time in a scenic, welcoming city and marvelling at nature's wonders.
---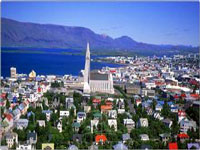 Reykjavik ©
Back in the first century AD, legendary Viking Ingolfur Arnarson named the settlement he founded on a northerly Atlantic peninsula Reykjavik, meaning 'Smokey Bay'. The smoke he found wafting over the area, however, had nothing to do with pollution, but rather the bubbling, boiling natural geysers and geothermal springs that now underlie the modern capital of Iceland. This source of heat and water has ensured that Reykjavik has no need to burn fuels to warm its heart, and the crisp, clean air is as beguiling as its clear blue skies.
The sky is not always blue, however: the city receives more than its fair share of rainy weather blown in from the sea, and during the long, bleak winter its northern latitude ensures that the sun makes no more than a brief appearance every day.
Despite this, the capital of Iceland is definitely a hot spot, renowned for its lively pubs and clubs, which draw hundreds of merry-making visitors, particularly during the long, light, bright summer nights. Its growing reputation as a fun tourist destination is enhanced by its fiery, friendly inhabitants, relaxed pace of life, many cultural attractions and dozens of opportunities for fascinating day trips, not to mention the novelty of bathing in one of the steamy public geothermal swimming baths.
Reykjavik's setting on the southwest corner of Iceland on Faxaflói Bay is another draw card. All around are panoramic views of the majestic Mount Esja, which rises up behind the bay, and vistas across the Atlantic as far, on a sunny day, as the crystalline Snaefellsjokull glacier to the west.
The city has a small-town atmosphere, its centre easily explored on foot, the quaint whitewashed wooden buildings and colourful houses interspersed with plenty of open space.
Even those who come to indulge mainly in the hedonistic nightlife cannot fail to leave Reykjavik feeling refreshed and rejuvenated.
Become our Reykjavik Travel Expert
We are looking for contributors for our Reykjavik travel guide. If you are a local, a regular traveller to Reykjavik or a travel professional with time to contribute and answer occasional forum questions, please contact us.
iExplore offers made-to-order, privately-guided adventure tours to Iceland and over 200 other world wonders. Come Back Different!
ADVERTISEMENT
---