United States of America

---

---

---

---
Boise Travel Guide
Why? Boise, the 'City of Trees', offers a unique blend of vibrant cultural attractions, including the Basque Museum and the Morrison Center for the Performing Arts, against a backdrop of natural beauty. It is the gateway to southwest Idaho's endless outdoor activities.
When? For skiers and snowboarders, the only time to visit Idaho is during the winter. Just north of Boise is the Bogus Basin Mountain Resort, with 2,600 acres of skiable terrain 7,000 feet (2,134m) above sea level. Outdoor recreation does not end with the ski season, however. Summers are beautiful, and visitors can opt for hiking, mountain biking, white-water rafting or hot air balloon rides.
Who for? Idaho is heaven for outdoor enthusiasts, though romantics can look forward to plenty of cosy evenings before roaring fires. Family-friendly activities are also countless.
---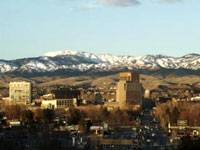 Boise and Bogus Basin ©
Boise is nestled on a high desert plain in the shadow of the Rocky Mountains, and visitors will be hard-pressed to forget its proximity to the glories of Mother Nature. The Boise River flows directly through the centre of town, enhancing the 25-mile (40km) Greenbelt path system, which connects five major parks throughout Boise and providing runners, walkers, bikers and skaters with endless space for exercise. Boise's location makes it a gateway to the great outdoors. Towering mountains lie to the north, including the Bogus Basin Mountain Resort, just a few minutes' drive from the city. Also easily accessible are natural sand dunes, hot springs and crystal clear mountain lakes.
Downtown Boise, however, is not without urban flair. Shops, galleries, restaurants and clubs radiate from the central Grove Plaza, where free concerts are staged throughout the summer and holiday celebrations, including the lighting of an enormous Christmas tree, take place during the winter. Renovated historic buildings like the 8th Street Marketplace and Union Block offer unique shopping and dining experiences. Boise has an active downtown association, which promotes initiatives like First Thursdays, when city businesses stay open late and offer various promotions.
One must-do is to sample Boise's Basque cuisine... yes, Basque. In the 1930s, a group of Basques left Europe and settled in Boise, joining the sheep-herding industry, which was quite strong at the time. Today, Boise has the largest concentration of Basques in the world outside the Pyrenees. In Boise's Basque neighbourhood, visitors can enjoy the Basque market, the traditional Gernika restaurant and various cultural events.
Become our Boise Travel Expert
We are looking for contributors for our Boise travel guide. If you are a local, a regular traveller to Boise or a travel professional with time to contribute and answer occasional forum questions, please contact us.