Chicago Travel Guide
Why? Chicago is a legendary metropolis that is almost as popular a tourist destination as New York, and it gets better every year. During a holiday in Chicago there need never be a dull moment, the number of world-class events and attractions being as large and diverse as the city itself.
When? If there is anything that might put off visitors who travel to Chicago it could be the weather, which is miserable for most of the year. Summers are overly hot and humid, and winters unbearably cold, windy and snow-covered. The best time to holiday in Chicago is during early autumn, when the air is frosty but it sparkles under blue skies and sunshine.
Who for? Anyone and everyone will enjoy a holiday in Chicago, which is a marvellous modern city in a delightful setting, offering amusements, entertainment and interesting sights to suit all tastes.
More Info: If you are planning to travel to Chicago make use of our up-to-date Chicago travel guide, which is filled with all the information required to ensure a wonderful Chicago holiday, from restaurant recommendations to details of public transport and listings of events and attractions.
---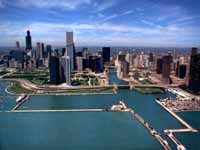 Chicago River © Robert Cameron
Chicago is the major metropolis of America's heartland, with three million people hustling and bustling in the city of skyscrapers that appears to rise straight out of the waters of Lake Michigan, in northern Illinois. Once a gangster's hang-out synonymous with infamous names such as Al Capone and Bonnie and Clyde, the 'windy city' today has a squeaky-clean reputation as an international business and commercial capital boasting an eclectic mix of architecture, world-class theatre, art exhibitions, fantastic music and super-enthusiastic sportsmanship.
Chicago emerged as a rough and tough survivor after being destroyed in the Great Fire of 1871, and a huge influx of immigrants from all over the world in the early 20th century brought with them a determined spirit infusing the city with ethnic diversity and the unmistakable sound of Chicago-style blues music. Chicagoans have built a city that is to be reckoned with, boasting soaring skyscrapers like the Sears Tower (one of the tallest in the world); thriving ethnic neighbourhoods; a lakefront business district, the re-energised downtown; unbeatable shopping along the famed Michigan Avenue; and top-class sports teams.
One thing that does not attract visitors to Chicago is the weather, which, because of its geographical location is breezy at best, and freezing and gale-ridden at worst. It is possible to ignore the weather though, especially in summer, when getting caught up in the myriad of things to do, see and experience in this Midwestern metropolis - there are 30 excellent museums alone.
Become our Chicago Travel Expert
We are looking for contributors for our Chicago travel guide. If you are a local, a regular traveller to Chicago or a travel professional with time to contribute and answer occasional forum questions, please contact us.