Agra Travel Guide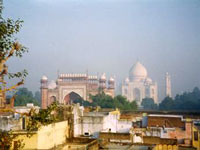 Taj Mahal, Agra © Judith Duk
The last Lodi Sultan moved his capital to Agra in 1504, and although he was defeated in 1526 by Babur, the founder of the Mogul empire, it remained India's premier city for almost two centuries. The city's greatest days were during the reign of Babur's grandson, Akbar the Great (1556-1605) who built Agra Fort, and although Shah Jahan created a new capital in Delhi, his heart remained in Agra. In 1631 he chose Agra as the spot to construct what is undisputedly the world's greatest monument to love - the Taj Mahal.
For many, Agra represents the best and worst of India. The city is a daunting sensory experience for even the most hardened traveller: the streets are foul, the air polluted and, particularly in the alleyways around the Taj Mahal, you will come across the most persistent touts and rip-off merchants in the East. Despite all this, Agra's magnificent sights make the adventure more than worthwhile.
Agra, along with Delhi and Jaipur, forms the 'Golden Triangle' - India's most popular tourist route. Situated just 125 miles (200km) south of Delhi, it makes an easy day-trip by train. However, it is worth spending at least a night in the city just to truly appreciate the wondrous Taj Mahal and its many moods: to stand in awe and watch it change from rose-pink in the morning, to brilliant-white at noon, to eggshell-blue at dusk.
Become our Agra Travel Expert
We are looking for contributors for our Agra travel guide. If you are a local, a regular traveller to Agra or a travel professional with time to contribute and answer occasional forum questions, please contact us.
iExplore designs made-to-order, privately-guided adventure tours to India and over 200 other world wonders. Come Back Different!
ADVERTISEMENT
---
Camels and castles in Rajasthan. Sleep on a Kerala houseboat and try a Himalayan homestay trek. Build your own India adventure.
ADVERTISEMENT
---
Intrepid Travel, one of the world's leading suppliers of small group adventures focused on getting off the beaten track, interacting with the locals and having real life experiences throughout India.
ADVERTISEMENT
---