Ahmedabad Travel Guide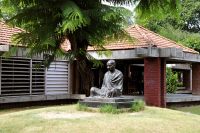 Gandhi Ashram © Hardik Jadeja
A sprawling city in the Gujarat province of India, Ahmedabad has a long and colourful history. Founded in the 11th century as Karnavati by King Karandev; it was renamed Ahmedabad after the conquering Sultan Ahmed Shah in 1411. The city was a cradle of the non-violent movement and is today a bustling industrial metropolis and the sixth-largest city in India.
Often ignored by tourists, Ahmedabad is home to a number of stunning historical and religious sites, including the Sidi Sayed Mosque, Bhadra Fort, Juma Masjid, and the Akshardham Temple. Other places of interest include the Kamla Nehru Zoo, the musical fountain show at Kankaria Lake, and the markets at the Law Garden.
Ahmedabad is best known, however, as the home of the Gandhi Ashram. Founded in 1915 as the Satyagraha Ashram by Mahatma Gandhi, it was an important base for the non-violent resistance; it was from here that Gandhi started the famous Dandi March to protest the British Salt Tax in 1930. Today tourists can see many of his teachings, and visit the handicrafts centre, paper factory, and spinning wheel factory on the site.
Ahmedabad has a reputation for its textiles, and travellers willing to bargain can find exquisite embroidered and tie-dyed clothes at the city's main market at Thron Darwaja (although it is generally advised to go with a local guide).
The food in Ahmedabad is excellent, with small restaurants and cafés on nearly every corner. Most cuisine is vegetarian, although chain restaurants are more likely to serve meat. Travellers should note that Gujarat is a dry province, although non-Indians can purchase an alcohol permit from any hotel liquor shop.
Become our Ahmedabad Travel Expert
We are looking for contributors for our Ahmedabad travel guide. If you are a local, a regular traveller to Ahmedabad or a travel professional with time to contribute and answer occasional forum questions, please contact us.
iExplore designs made-to-order, privately-guided adventure tours to India and over 200 other world wonders. Come Back Different!
ADVERTISEMENT
---
Camels and castles in Rajasthan. Sleep on a Kerala houseboat and try a Himalayan homestay trek. Build your own India adventure.
ADVERTISEMENT
---
Intrepid Travel, one of the world's leading suppliers of small group adventures focused on getting off the beaten track, interacting with the locals and having real life experiences throughout India.
ADVERTISEMENT
---