Bangalore Travel Guide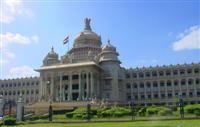 Vidhan Soudha, pride of Bangalore ©
Until 1831, Bangalore slumbered in the shadow of its neighbouring city Mysore. When the British took control over the local kingdom they moved the capital to Bangalore, upgrading its infrastructure in the process with fine colonial buildings, roads, rail connections and wonderful parks and gardens. Bangalore, now officially known as Bengaluru, is today the state capital of Karnataka; it is still called the 'Garden City' due to its leafy avenues and quiet suburbs.
Bangalore was the first city in India to become electrified, and has ever since retained the cachet of being India's most technologically modern and progressive city. It is also quite literally one of the country's coolest cities, with an average temperature far lower than the scorching plains of the surrounding region. Among other advantages Bangalore enjoys are noticeably cleaner streets and a generally calmer and less frenetic atmosphere than other Indian cities.
Bangalore is also well-known as the centre of India's IT and telecommunications industries, and thus attracts professionals from all over India and abroad. The influx of Westerners and knowledge-workers, coupled with the rise in affluence, have made this India's most modern and secular city - often its residents have relaxed and refreshingly liberal attitudes by Indian standards that many find appealing, but others find scandalous.
Bangalore is perhaps best described as the face of modern India, a fast-developing and charming city with a lot of potential.
Become our Bangalore Travel Expert
We are looking for contributors for our Bangalore travel guide. If you are a local, a regular traveller to Bangalore or a travel professional with time to contribute and answer occasional forum questions, please contact us.