Chennai Travel Guide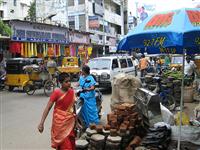 Chennai (formerly known as Madras) is the capital of the friendly state of Tamil Nadu, and makes for a great gateway to India's celebrated south. Founded in 1639 by the British (acting under the auspices of the Dutch East India trading company), this city on the Coromandel Coast is now the fourth-largest in India, home to nearly 7.5 million people.
If truth be told, modern-day Chennai is a dusty, chaotic and unattractive city - and is primarily used as a transit-point for travellers looking to access the close-lying areas of Pondicherry and Kerala. Accommodation options in Chennai are limited, shopping is not really worth the considerable stress of negotiating its roads and downtown areas, and there is not a great amount to see and do in the city itself. Still, for travellers looking to access India's southern regions, and especially those who want to travel through the famously friendly and temple-strewn state of Tamil Nadu, Chennai is a useful entry-point to India.
For those tourists who find themselves with a couple of days to kill in Chennai, there are a limited amount of sights that capture the imagination. The Basilica of the National Shrine of St.Thomas is a bright white, neo-Gothic, spired building - and is purportedly built over the tomb of St Thomas the Apostle. The Big Mosque (also called the Wallajah Mosque) is a beautiful structure, with extremely pleasing lines and - despite its size - possessing a remarkable symmetry. Completing Chennai's list of top religious sights is the The Parthasarathy Temple, an 8th-century temple dedicated to Lord Krishna.
Chennai also has a long coastline, full of sandy beaches with great ocean views. However, unfortunately for tourists, swimming is absolutely not allowed at any of these beaches due to dangerously strong undercurrents.
One of the most wonderful places to visit in the region is Puducherry (formerly Pondicherry), a gracious seaside town on India's east coast. Known as the 'French Riviera of the East', Puducherry certainly displays its strong French heritage: the old quarter of the city retains its original design, with a grid of quaint, tree-lined rues and boulevards flanked by stately villas, bakeries and fine restaurants. Indeed, as there is not that much to actually do in Puducherry - apart from relaxing on the pretty beach, and enjoying the promenade - you are strongly encouraged to embark on a bit of a 'restaurant tour' of the city.
Become our Chennai Travel Expert
We are looking for contributors for our Chennai travel guide. If you are a local, a regular traveller to Chennai or a travel professional with time to contribute and answer occasional forum questions, please contact us.
iExplore designs made-to-order, privately-guided adventure tours to India and over 200 other world wonders. Come Back Different!
ADVERTISEMENT
---
Camels and castles in Rajasthan. Sleep on a Kerala houseboat and try a Himalayan homestay trek. Build your own India adventure.
ADVERTISEMENT
---
Intrepid Travel, one of the world's leading suppliers of small group adventures focused on getting off the beaten track, interacting with the locals and having real life experiences throughout India.
ADVERTISEMENT
---