Hyderabad Travel Guide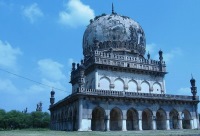 Qutb Shahi Tomb © Soham Pablo
At first glance, Hyderabad seems to have a split personality: the west side, Bangalore, is the centre of India's software industry and oozes a feeling of wealth and prosperity; the east side is Hyderabad's old Muslim quarter, and is home to most of the city's historical buildings and monuments. The two halves are separated by the Musi River.
Hyderabad is famous for its monuments, and the Old City is a must-see for visitors, starting with the Charminar, the Qutb Shahi Tombs, the UNESCO-recognised Chowmahalla Palace, and the Spanish Mosque.
One could easily spend days simply looking at the buildings in Old Hyderabad, but the city's museums are also excellent, including the Salar Jung Museum, the Surendrapuri, the City Museum, and the AP State Archaeology Museum, all showcasing different aspects of Hyderabad's history and culture. The local tourism department organises guided heritage walks on weekends.
As a bustling metropolis, getting around in Hyderabad can prove to be a challenge. The fastest way is by taxi or autorickshaw, however there is also a good bus system, with routes displayed in English.
Hyderabad is known as the City of Pearls, so it's no wonder that shopping is a major pastime. Many traditional and historical bazaars are located throughout the city; the Golden Mile consists of a number of shopping plazaz, malls, and designer boutiques, while Laad Bazaar is popular for selling a variety of traditional and cultural antique wares.
Just outside of Hyderabad, the Ramoji Film City is the world's largest integrated film studio and theme park, and one of the most popular tourist spots in India. Ramoji is a great place to get a taste of Bollywood, as tours are conducted regularly.
Become our Hyderabad Travel Expert
We are looking for contributors for our Hyderabad travel guide. If you are a local, a regular traveller to Hyderabad or a travel professional with time to contribute and answer occasional forum questions, please contact us.
iExplore designs made-to-order, privately-guided adventure tours to India and over 200 other world wonders. Come Back Different!
ADVERTISEMENT
---
Camels and castles in Rajasthan. Sleep on a Kerala houseboat and try a Himalayan homestay trek. Build your own India adventure.
ADVERTISEMENT
---
Intrepid Travel, one of the world's leading suppliers of small group adventures focused on getting off the beaten track, interacting with the locals and having real life experiences throughout India.
ADVERTISEMENT
---