Kerala Travel Guide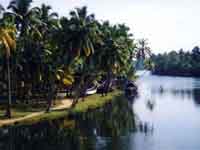 The backwaters of Kerala ©
Tucked away in the south-west corner of India, Kerala is a narrow strip of land between the Arabian Sea and the Western Ghat mountains. The name means 'land of coconuts', and palms still shade almost the entire state from the blazing sun. The tropical landscape crossed by dozens of rivers and countless waterways, and visitors can spend idle days riding small ferries through the backwater lagoons, observing village life close-up in this, India's most populous state.
Kerala has some of India's best coastal resorts: among the finest is the much-photographed Kovalam, which many argue has the best beach in the country. Here visitors can take in Kerala's rich cultural and artistic life, and enjoy arguably the best vegetarian cuisine on the planet.
When the rest of India gets too hot to handle, Kerala is often soothing and rejuvenating. Whether you stick to the lowlands or head for the hills, you will pass through scenery dotted with churches and temples; spice, tea, coffee and rubber plantations; and natural forests with wildlife reserves filled with elephants.
Compared to the rest of India, Kerala is short on monumental sights to see - its real drawcard is its natural beauty. The countryside undulates westward from the mountains, offering vistas of rich green valleys. Rivers glide across the plains towards the sea, creating attractions like the Athirampally Falls, before ending in a linked chain of lagoons where the silence of the still waters is broken only by boats and canoes, seagulls and cranes.
Become our Kerala Travel Expert
We are looking for contributors for our Kerala travel guide. If you are a local, a regular traveller to Kerala or a travel professional with time to contribute and answer occasional forum questions, please contact us.
iExplore designs made-to-order, privately-guided adventure tours to India and over 200 other world wonders. Come Back Different!
ADVERTISEMENT
---
Camels and castles in Rajasthan. Sleep on a Kerala houseboat and try a Himalayan homestay trek. Build your own India adventure.
ADVERTISEMENT
---
Intrepid Travel, one of the world's leading suppliers of small group adventures focused on getting off the beaten track, interacting with the locals and having real life experiences throughout India.
ADVERTISEMENT
---