Pushkar Travel Guide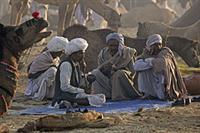 One of the holiest Hindu sites in India, Pushkar is also extremely popular with tourists in Rajasthan, who go there to soak up the spiritual atmosphere, shop at the bustling market, explore the beautiful temples, and sample the heady bhang lassis (bhang is a liquid derivative of cannabis, and is legal in Pushkar). According to Hindu myth, after vanquishing the demon Vajra Nabha, the creator-god Brahman dropped a lotus flower on the ground, which later grew into Pushkar Lake. The centre of the city's activity, Pushkar Lake is fringed by ghats, and sees a steady stream of devotees go down and make an offering by the water's edge every day. You are strongly advised to find accommodation in Pushkar with a lake-view - at sunset, the scene is picture-perfect. Pushkar also boasts one of the only temples dedicated to Brahman in the whole of India, a number of excellent walking trails leading to temples in the surrounding hills, and is a popular starting-point for one of Rajasthan's chief tourist attractions, the camel safari.
If you are visiting Pushkar and looking for an excursion, the beautiful, relaxed town of Bundi is a great option. With cattle-choked, cobble-stone streets, delicately-carved baoris (step-wells), a high proportion of haveli-style houses, and numerous graceful temples, Bundi also has an added aesthetic attraction - the fact that most of its buildings are painted a soothing, cooling blue. The effect is magical, and has contributed to Bundi being termed 'one of the most photogenic towns' in all of India. Notable tourist attractions in Bundi include the 14th-century Taragarh (or 'Star') Fort and the heavily-frescoed Bundi Palace, both built on nearby hilltops. Hike up at sunset, sit on a ruined rampart, and watch the blue city begin to gleam in the gathering twilight.
Become our Pushkar Travel Expert
We are looking for contributors for our Pushkar travel guide. If you are a local, a regular traveller to Pushkar or a travel professional with time to contribute and answer occasional forum questions, please contact us.
Camels and castles in Rajasthan. Sleep on a Kerala houseboat and try a Himalayan homestay trek. Build your own India adventure.
ADVERTISEMENT
---