Udaipur Travel Guide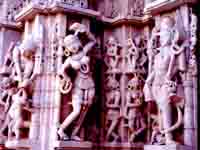 Marblework at Ranakpur ©
Udaipur was once the capital of the powerful state of Mewar, and still takes great pride in being the only one of the seven major Rajput states to have upheld its Hindu allegiance in the face of Muslim invasions. The Mewar household is the longest-lasting of all the ruling powers in Rajasthan, and possibly the oldest surviving dynasty in the world. The current ruler is the seventy-sixth in an unbroken line of Mewar rulers dating back to 568 AD.
Undoubtedly the most romantic city in Rajasthan, and perhaps the whole of India, Udaipur is situated 200 miles (320km) southwest of Jaipur. The city is centred around Lake Pichola and has inevitably been dubbed the 'Venice of the East'. Two island palaces, Jagniwas and Jagmandir, sit on the lake - the former is now the luxurious Lake Palace Hotel. The majestic City Palace towers over the lake and is bedecked by balconies, turrets and cupolas.
Despite the many attractions in and around the city, the real joy of Udaipur lies in soaking up its atmosphere - taking in the view from a rooftop restaurant, wandering around the relatively hassle-free inner-city, enjoying a drink on the edge of the lake, or taking a boat to Jagmandir Palace past the ghats (riverside landings), where washerwomen congregate and a real 'slice of Indian life' unfurls before your eyes.
Become our Udaipur Travel Expert
We are looking for contributors for our Udaipur travel guide. If you are a local, a regular traveller to Udaipur or a travel professional with time to contribute and answer occasional forum questions, please contact us.
iExplore designs made-to-order, privately-guided adventure tours to India and over 200 other world wonders. Come Back Different!
ADVERTISEMENT
---
Camels and castles in Rajasthan. Sleep on a Kerala houseboat and try a Himalayan homestay trek. Build your own India adventure.
ADVERTISEMENT
---
Intrepid Travel, one of the world's leading suppliers of small group adventures focused on getting off the beaten track, interacting with the locals and having real life experiences throughout India.
ADVERTISEMENT
---