United States of America

---

---

---

---
Indianapolis Travel Guide
Indianapolis travel Forum
---
Why? Indianapolis is where five major US highways meet, making it a convenient day trip by car. Once there, visitors can access big-city amenities in a friendly, easily navigable environment.
When? Visitors can take their pick of sports seasons. With spring comes the Indy 500; autumn and winter, the start of Pacers basketball and Colts football. Summer in Indianapolis provides some of the best weather imaginable for outdoor activities.
Who for? Indianapolis is a sports town, but visitors will also find plenty of shopping and dining options. With Eli Lilly headquartered here, Indianapolis attracts many business travellers as well, who will have their choice of diversions after meetings or conventions.
More Info: Our Indianapolis travel guide is updated regularly to provide current information on all aspects of a holiday in Indianapolis, from the top attractions and excursions to how to use the bus service.
---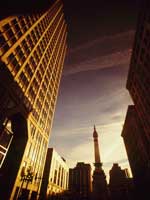 Indianapolis © Indiana Office of Tourism Development
Indiana is known as the 'Crossroads of America', and in Indianapolis, the intersection of several major Interstate highways, this is literally true. This makes the state capital's multiple attractions easily accessible, including the one many consider to be hallowed ground, the Indianapolis Motor Speedway. Those who know nothing else about the city know that each May, racing devotees flock to Indianapolis by the thousands for the Indy 500. During the winter, Indianapolis is a hotspot for football fans, whose fervour for the Colts has reached frenzied heights since the team won the XLI Super Bowl.
No worries for those less enthusiastic about spectator sports. Once dubbed 'Indiana No Place', Indianapolis now caters to a variety of other interests, not the least of which is history. At the centre of town is Monument Circle, home to the 284-foot (87m) Soldiers' and Sailors' Monument, among many others. From the circle, the city spreads outward in a grid and is divided into six cultural districts. Broad Ripple Village mixes sidewalk cafés and upscale boutiques with retro fashions and original music venues. Fountain Square is a funky downtown neighbourhood laid out like a European village. Both are known for their artistic leanings and abundance of ethnic restaurants. Indiana Avenue showcases the city's African-American heritage, and Mass Ave is the free-spirited, friendly arts and theatre district.
The final two cultural districts may have less of an eclectic vibe, but they are packed with attractions. Those in search of good, old-fashioned American consumerism need look no further than the Wholesale District's Circle Centre, a large shopping mall connected to the Indiana Convention Center and a number of downtown hotels via skywalks. Wholesale is the home of the business district as well as Conseco Fieldhouse, where the Indiana Pacers play, the Colts' RCA Dome and loads of chain restaurants. For visitors who wish to spend a bit of time enjoying the fresh air, there is the Canal and White River Park district. The Canal Walk snakes through the city, offering an urban respite for fitness buffs, while scattered throughout the 250-acre state park are top museums, unique festival and concert spaces and the Indianapolis Zoo.
Become our Indianapolis Travel Expert
We are looking for contributors for our Indianapolis travel guide. If you are a local, a regular traveller to Indianapolis or a travel professional with time to contribute and answer occasional forum questions, please contact us.