Jakarta Travel Guide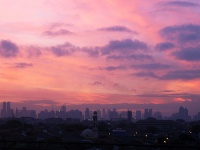 The Jakarta skyline at daybreak © flydime
Jakarta is not a city that appeals to everyone but many find it an inevitable and unavoidable stop on the way to more tranquil Indonesian destinations. What has amassed is a decentralized sprawl of low slung buildings amidst occasional high rise towers. With no central Jakarta area it is difficult to experience the city's highlights which are scattered about the enormous districts. Jakarta has a reputation as a rich person's playground. Grungy streets contrast to modern shopping complexes and examples of ostentatious wealth. Visitors can enjoy a bit of this in garish nightclubs and elegant restaurants.

Travelling far in the city is laborious and adding to the difficulty is heavy traffic and haywire street grids throughout dense and stretching sprawl. Yet despite, or possibly because of, Jakarta's reputation as a difficult city, little visited areas and unique attractions feel like personal discoveries. Jakarta is a boiled down representation of everything Indonesian giving visitors a quick introduction or synopsis of the country's various and incredibly diverse cultures, architecture, food, languages, religions, and combined histories. Although it can be a dirty and frustrating city to visit, it has some hidden gems and confronts tourists with the realities of urban Indonesia which provides an interesting contrast to the peaceful rural villages and stunning coastal areas.
Become our Jakarta Travel Expert
We are looking for contributors for our Jakarta travel guide. If you are a local, a regular traveller to Jakarta or a travel professional with time to contribute and answer occasional forum questions, please contact us.
iExplore designs made-to-order, privately-guided adventure tours to Indonesia and over 200 other world wonders. Come Back Different!
ADVERTISEMENT
---
Footsteps across the rumbling volcano. Sleep in Bali beach bungalows and cycle through rice paddies. Build your own Indonesia adventure.
ADVERTISEMENT
---
Intrepid Travel are a tour operator specialising in 'off the beaten track' tours. If you're a traveller with a yearning for adventure, a sense of fun and a wish to escape the humdrum of mainstream tourism, then Intrepid Travel may be your ideal travel agent. Their Indonesian tours include Jakarta, Pangandaran, Yogyakarta, Mt Bromo, Bali, Ubud, walking, boating, Kuta, Lombok culture, beaches, Gilli Islands, Mt Rinjani, Sapit , Sengiggi and Denpasar.
ADVERTISEMENT
---