Java Travel Guide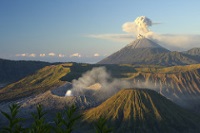 Mount Bromo, Java © Sara Marlowe
Java is the most populous island in Indonesia, providing much diversity of scenery, people, religions and cultures. The island boasts immense beauty, from peaceful villages and a beautiful, fertile countryside, to smoking volcanoes and ancient monuments. However, there is also an unattractive side visible in its dirty, overcrowded cities, particularly the capital of Jakarta, which has some potential as a tourist destination but is clogged with traffic and pollution, with evidence of wretched poverty unavoidable. Java is a mosaic of sights and impressions and is Indonesia's main political stage and the cultural, educational and historical centre of the archipelago, making it an interesting but sometimes challenging destination.
The island is dominated by an active volcanic mountain range stretching along its length. To the north is the somewhat unappealing city of Jakarta, a mixture of the modern and luxurious - with a glamorous city centre and some fine Dutch architecture - along with the filth, crime and squalor of a big, developing city. South of the mountainous spine, in central Java, lies the most popular city in Indonesia, Yogyakarta, which is the centre for Javanese art and culture. Near this city visitors find the astounding Hindu complex of Prambanan and the Buddhist monument of Borobudur, both top Indonesian attractions. Mt Bromo to the east is an active volcano set amid stunning scenery.
Java offers the visitor a vivid and rewarding experience of an intensely striking land and culture, a tapestry of religions and historical influences, and splendid landscapes that have earned it the enchanting title of 'Garden of the East'.
Become our Java Travel Expert
We are looking for contributors for our Java travel guide. If you are a local, a regular traveller to Java or a travel professional with time to contribute and answer occasional forum questions, please contact us.