Java Travel Guide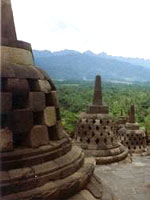 Borobodur, Java © Judith Duk
Java is the most populous island in Indonesia, providing much diversity of scenery, people, religions and cultures. The island boasts immense beauty, from peaceful villages and a beautiful, fertile countryside, to smoking volcanoes and ancient monuments. However, there is also an unattractive side visible in its dirty, overcrowded cities, particularly the capital of Jakarta, which has some potential as a tourist destination but is clogged with traffic and pollution, with evident differences in wealth and wretched poverty between the people. Java is a mosaic of sights and impressions. It is also Indonesia's political stage and the cultural, educational and historical centre of the archipelago.
The island is dominated by an active volcanic mountain range stretching along its length. To the north is the somewhat unappealing city of Jakarta, a mixture of the modern and luxurious, with a glamorous city centre and some fine Dutch architecture; along with the filth, crime and squalor of a big city. South of the mountainous spine in central Java, lies the most popular city in Indonesia, Yogyakarta, which is the centre for Javanese art and culture. Near this city you will find the astounding Hindu complex and Buddhist monument of Prambanan and Borobudur. Mt Bromo to the east is an active volcano set amid stunning scenery.
Java offers the visitor a vivid and rewarding experience of an intensely striking land and culture, a tapestry of religions and historical influences, and splendid landscapes that make it the enchanting 'Garden of the East'.
Become our Java Travel Expert
We are looking for contributors for our Java travel guide. If you are a local, a regular traveller to Java or a travel professional with time to contribute and answer occasional forum questions, please contact us.
iExplore designs made-to-order, privately-guided adventure tours to Indonesia and over 200 other world wonders. Come Back Different!
ADVERTISEMENT
---
Footsteps across the rumbling volcano. Sleep in Bali beach bungalows and cycle through rice paddies. Build your own Indonesia adventure.
ADVERTISEMENT
---
Intrepid Travel are a tour operator specialising in 'off the beaten track' tours. If you're a traveller with a yearning for adventure, a sense of fun and a wish to escape the humdrum of mainstream tourism, then Intrepid Travel may be your ideal travel agent. Their Indonesian tours include Jakarta, Pangandaran, Yogyakarta, Mt Bromo, Bali, Ubud, walking, boating, Kuta, Lombok culture, beaches, Gilli Islands, Mt Rinjani, Sapit , Sengiggi and Denpasar.
ADVERTISEMENT
---