Galway Travel Guide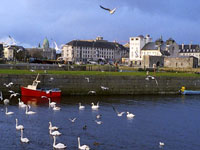 Galway © Matthias Richter
Galway's stunning mix of ancient history and contemporary culture make it an essential stop for history buffs and nightlife enthusiasts alike. Its rich history as a medieval fishing village integrates seamlessly with it's bustling bohemian atmosphere. There's plenty to see, and the Galway City Tour hop-on-hop-off bus provides an easy way to explore at your own pace. Old stone buildings and narrow alleyways bring the past to life, and it's also one of the last places you'll still hear Gaelic spoken in the streets. The Galway City Museum offers an overview of the city's history, but if you want specifics you can visit the Galway Fisheries Watchtower Museum, the The Claddagh Ring Museum or Lynch's Castle. While the historical attractions in the city are extensive and impressive, Galway is also the beating heart of the West's arts scene. Students make up a quarter of the population, so it's unsurprising that Galway has become a multicultural haven for the arts. The nightclubs in Eyre Square spill beats into the alleyways between the ancient remnants of medieval city walls. Quay Street is lined with brightly painted storefronts where you can kick back for some people-watching during the day. By night, it comes alive with music bars and restaurants. As dusk approaches, take a stroll along the Salthill Promenade to watch the sunset over Galway Bay, with a Guinness and a platter of the the bay's famous oysters. There's something going on year-round in Galway, but visit in July during the famous International Arts Festival if you want to see the city in full swing.
Become our Galway Travel Expert
We are looking for contributors for our Galway travel guide. If you are a local, a regular traveller to Galway or a travel professional with time to contribute and answer occasional forum questions, please contact us.