Galway Travel Guide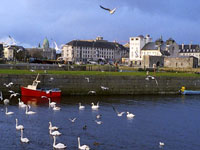 Galway © Matthias Richter
Capital of the west, Galway is one of the fastest growing cities in Europe, even though it began as a small fishing village on the River Corrib.
With its narrow streets full of vibrant pubs and old stone shop fronts, Galway is an exceptionally enjoyable, free-spirited place to spend a few days, especially if they coincide with one of the cultural festivals held during various months of the year. Galway is a very arts-oriented city, and there are many events and festivals, including the February Jazz Festival, the Easter Festival of Literature and the July Arts Festival, when the streets are alive with music and dancing and the town feasts on Guinness and oysters.
The town centre has many attractions, including the bustling Spanish Parade, Eyre Square and the nearby medieval quarter, as well as the infamous Lynch's Castle. There are many picturesque churches and buildings, particularly along St Patrick's Street, a pedestrianised thoroughfare also known for its shopping. The Galway City Museum is a great stop for anybody interested in the history of this special city.
Galway's famous bay is also a popular destination for boats with its sailing races. Situated on the periphery of the Gaeltacht (Irish-speaking area), Galway is an important tourist centre and makes a good base from which to explore the magnificent scenery of surrounding areas like the beautiful Connemara and Aran Islands. To the East lies picturesque, rolling farmland.
Become our Galway Travel Expert
We are looking for contributors for our Galway travel guide. If you are a local, a regular traveller to Galway or a travel professional with time to contribute and answer occasional forum questions, please contact us.