Bologna Travel Guide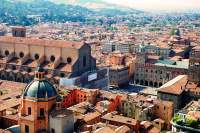 Bologna © Luca Volpi
Located in northern part of the peninsula, Bologna is often overlooked on Italian holidays. However, this ancient city offers a wealth of unforgettable experiences for travellers who want to see more of Italy than the usual tourist traps.
While not as large or famous as cities like Rome or Venice, Bologna is an important cultural and artistic centre in Italy. Designated a UNESCO City of Music in 2006, there are always concerts and other performances happening in any number of concert halls, rock venues, and electronic clubs. Home to the oldest university in the world, Bologna has a lively student population that keeps it young!
The medieval city centre has been faithfully preserved, and the original Roman street plan is still visible. Visitors can see countless landmarks and historic buildings, including the Palazzo Comunale, the Basilica of San Petronio, and the Santuario della Madonna di San Luca, which offers panoramic views of the city. Most famous are the Two Towers of Bologna: the Tower of the Asinelli and the Tower of the Garisenda, whose 10-foot (3m) lean is obvious compared to its twin.
Bologna also boasts dozens of world-class museums, and visitors are advised to get a Museum Card for free or discounted access to many of them. Aside from a number of archaeological, art, and cultural msueums, Bologna has three Italian car museums devoted to its most famous brands: Lamborghini, Ducati, and Ferrari (which has an excellent Formula One exhibit).
Bologna is also considered a gastronomic capital of Italy, and visitors will find no lack of excellent Italian cuisine made fresh from local produce.
Voted European Capital of Culture in 2000, Bologna is a lively cultural hub settled at the foot of the picturesque Apennine Mountains, and well worth a visit on any holiday in Italy.
Become our Bologna Travel Expert
We are looking for contributors for our Bologna travel guide. If you are a local, a regular traveller to Bologna or a travel professional with time to contribute and answer occasional forum questions, please contact us.
iExplore designs made-to-order, privately-guided adventure tours to Italy and over 200 other world wonders. Come Back Different!
ADVERTISEMENT
---