Venice Travel Guide
Venice Travel Guide
One of the most romantic and unique travel destinations in the world, Venice's fame is perennial and well-deserved; the watery city is full of treasures and surprises and is guaranteed to delight visitors:
Floating on its blue lagoon with an almost dream-like quality, Venice is just as romantic and beautiful as it looks in travelogues and movies, making it extremely unlikely that anybody who realises their ambition of a holiday in the city will be disappointed. The charming piazzas and singing gondoliers, idiosyncratic buildings and crumbling palaces are all there to be seen, admired and photographed for posterity. Venice's art galleries, museums and churches house some of the masterpieces of European art and the difficulty for tourists is choosing what to see when so many treasures are accessible. A Venice holiday may be crowded and expensive but will surpass all expectations.
Best time to visit Venice
The busiest tourist seasons in Venice are between spring and autumn (April to October), over Christmas, and during the popular Carnival in February. However, these may not be the best times to travel to Venice if you don't enjoy crowds of sightseers. Winter, between December and February, is a good option for a Venice holiday because although it is cool and wet, the sights are more easily enjoyed and accommodation is cheaper. Read more on Venice's Climate and Weather.
What to see in Venice
-Marvel at the elegant architecture of Venice's picture-perfect Grand Canal.
-See the breathtaking interior of the School of St Roch, covered in the art of Tintoretto.
-Enjoy a dose of modern art from the world-renowned Peggy Guggenheim Collection.
-Admire the views of Venice from the 9th-century Companile di San Marco.
What to do in Venice
-Enjoy a sophisticated meal in one of the many restaurants off St Mark's Square.
-Wander across the iconic Rialto Bridge, and explore the markets in the area.
-Take a Gondola Ride through the picturesque, narrow canals of the city.
-Stroll through the Gallerie dell'Accademia to see one of Europe's finest art collections.
Beyond Venice
The islands of Murano, Burano and Torcello have been incorporated into Venice to some extent and all three offer some interesting attractions for visitors. For a break from traditional sightseeing, or as a treat for the kids, Aqualandia water park, also very close to the city, is a blast. Further afield, the historic city of Padua is a charming destination. Both Milan and Florence are within reach.
Getting there
The Venice Marco Polo Airport is the most common entry point for visitors and is conveniently located five miles (8km) north of Venice. It is possible to get to the city from the airport by bus, boat, taxi or train. Get more information on Airports in Venice.
Did you know?
-From the 14th-century to the 16th-century Venice's Republic was the most powerful force in the Mediterranean region.
-Venice has 177 canals and more than 400 bridges.
-Despite the ingenious building methods which have kept Venice afloat for centuries, the city is slowly sinking.
---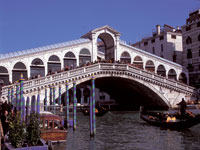 Rialto Bridge, Venice © Italian Tourist Board
Elegant Venetian buildings and palaces peer over the ancient maze of narrow streets and labyrinth of canals that make up this unique city. Tourists naturally flock to Venice to experience its inimitable charm. The downside of this can be felt in the narrow streets and cramped piazzas of its sought-after areas. A good way to get to know a more personal side of Venice is to saunter through its romantic back streets and residential quarters.
Venice rests on one of a series of 117 islands distributed throughout the Venetian lagoon, at the northern end of the Adriatic Sea. This strategic position conferred on Venice economic and defensive advantages over its trading rivals. As the wealth of the city increased and its population grew, the composition of the city grew ever more dense and today only a handful of the islets that constitute the historic centre are not entirely developed.
The historic centre is divided into six quarters (sestieri). These are: San Marco, Dorsoduro, San Polo, Santa Croce, Cannaregio and Castello. The city's main thoroughfare is the Grand Canal that intersects each district as it meanders through the length of Venice, from the railway station to San Marco. An alternative to walking the bewildering streets of Venice is to cruise the waterways onboard the motorboat buses known as vaporetti. These are the less romantic but also less expensive substitutes for the famous gondolas.
Venice extends beyond its six sestieri to the islands of Murano, Burano and Torcello. These are known for glass and lace-making respectively, and Torcello is noted for the magnificent Byzantine Basilica of Santa Maria Assunta that rests on its soil. Trips by boat to the islands provide a pleasant diversion from the busier historic quarters.
Become our Venice Travel Expert
We are looking for contributors for our Venice travel guide. If you are a local, a regular traveller to Venice or a travel professional with time to contribute and answer occasional forum questions, please contact us.
iExplore designs made-to-order, privately-guided adventure tours to Italy and over 200 other world wonders. Come Back Different!
ADVERTISEMENT
---