Negril Travel Guide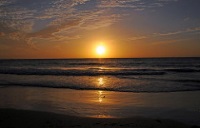 Negril Sunset © pshanson
Jamaica's western coastline is a laid-back: there is little to do other than sit back, relax and enjoy the renowned gorgeous sunsets in between beach-lounging and partying. At the centre of this hedonistic haven is Negril, dubbed the 'capital of casual', a sunny resort town.
Despite its popularity and the accompanying proliferation of tourist accommodation, it has managed to retain the sleepy tropical charm that first seduced seekers of sun and solitude when it was 'discovered' in the 1960s. It was the hippies and flower children who were first drawn Negril, and appreciated it for being different from the over-developed package-tour market of Montego Bay. Negril still attracts a young crowd, and the beachfront bars and cafes are abuzz each night with reggae music and dancing. Negril is known in the Caribbean as being a partying hotspot, and its nude beaches to complete its liberal reputation.
Negril is favoured also by those just wanting to get away from it all. It sports its famous seven-mile (11km) stretch of pristine beach, encircling Bloody Bay, and five miles (8km) of cliffs, where locals and visitors alike dare to indulge in some extreme cliff-diving, sometimes from ropes. The coral reefs and caves along the coast make it a dream come true for scuba divers and snorkellers, and for active visitors there is the chance to take part in just about any watersport imaginable. Adventure seekers can venture by kayak into the mysterious Great Morass, a protected area full of palm trees, exotic birds and crocodiles.
Become our Negril Travel Expert
We are looking for contributors for our Negril travel guide. If you are a local, a regular traveller to Negril or a travel professional with time to contribute and answer occasional forum questions, please contact us.