Kyoto Travel Guide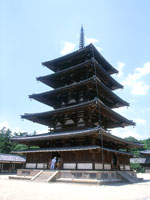 Horyuji Temple, Nara Park © JNTO
Kyoto, Japan's most historically important town, is the country's sightseeing capital, packed with 1,700 Buddhist temples, 300 Shinto shrines, imperial palaces, gardens, and traditional wooden homes, all well preserved and presenting a charming picture of traditional Japanese culture. The city lies in the mid-western Kansai district on the island of Honshu, surrounded by plains full of rice paddies.
Visitors arriving from the Kansai International Airport or on board the famous Shinkansen bullet train at Kyoto's modern central station may be disenchanted to initially discover a thriving, overcrowded industrial city with a straight grid of uniform streets presided over by the futuristic Kyoto Tower. The city may present a modern face, but explore behind the scenes in the outer districts or off the beaten track in the old merchants' quarters and you will glimpse cameos and images of traditional Japan, from cherry blossom to geishas, and bonsai trees to shoji screens.
Apart from the architectural legacy, which was fortunately spared the heavy bombings inflicted on other Japanese cities during World War II, Kyoto also boasts some of Japan's most significant art works, a culturally traditional way of life, and superior cuisine. No visit to Japan is complete without devoting some time to exploring Kyoto.
Become our Kyoto Travel Expert
We are looking for contributors for our Kyoto travel guide. If you are a local, a regular traveller to Kyoto or a travel professional with time to contribute and answer occasional forum questions, please contact us.
iExplore designs made-to-order, privately-guided adventure tours to Japan and over 200 other world wonders. Come Back Different!
ADVERTISEMENT
---