The Kenyan Coast Travel Guide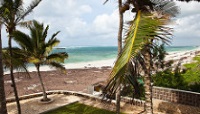 The Kenyan Coast © John Hickey-Fry
The Kenyan coast is lined with a mixture of beautiful white sand beaches and tourist resorts, interspersed with Arab and Portuguese forts, overgrown ruins of Swahili outposts and old trading port towns that are the remnants of its fascinating history.
Spectacular coral reefs with colourful plant and fish life provide world-class snorkelling and diving among pristine coral gardens in the pleasantly warm waters of the Indian Ocean. The marine parks at Malindi, Watamu Bay and Shimoni contain undisturbed coral reefs and enormous fish due to the lack of coastal fishing traffic.
Mombasa is the centre of activity in the region and Kenya's second largest city. North of Mombasa the coast is lined with resort complexes catering mainly to package tourists, with luxury accommodation, fine cuisine and excellent services. Calm waters and palm-backed beaches are in abundance. Further north is the resort town of Malindi, as well as Watamu Bay, and the islands of the Lamu Archipelago.
The safety of the Kenyan coast was called into question in 2011 and 2012, as several foreign tourists were killed or kidnapped from resorts, however there have been no incidents recently. There are, however, travel warnings in place for areas near the Somalian border.
Become our The Kenyan Coast Travel Expert
We are looking for contributors for our The Kenyan Coast travel guide. If you are a local, a regular traveller to The Kenyan Coast or a travel professional with time to contribute and answer occasional forum questions, please contact us.