Bishkek Travel Guide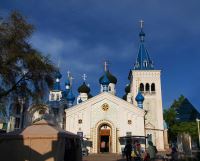 Orthodox Cathedral in Bishkek © Petar Milosevic
Bishkek is a fairly young capital: though it was founded in the 19th century, most of the buildings and monuments are post-World War II constructions. All but unknown to most travellers, the city lacks real tourist development; English is not widely spoken among the local population, although the nearby US military base means there are always a number of expats around.
Bishkek's Manas International Airport is the gateway to the city; however, once there the ubiquitous minibus is the most popular way of getting around and costs very little. Private taxis are also available, and are preferable late at night.
Travellers shouldn't expect an abundance of breathtaking architecture or world-class attractions in Bishkek, but there are some interesting sites to visit, including Ala-Too Square, the State Historical Museum, Panfilov Park, and the M Frunze Museum. Local bazaars are also a fun way to spend an hour or two, especially on weekends when they are biggest and most vibrant.
A unique experience in Bishkek is a visit to the local baths, Zhurgal Banya, or the more upmarket Green City Spa.
If there's one thing the residents of Bishkek know how to do, it's have a good time. The city has the liveliest nightlife in the region, and its many bars and nightclubs are welcoming to tourists. Karaoke is a popular activity.
Bishkek is within four hours' drive of Almaty, with its mountain resorts, and this city makes a great weekend excursion from Bishkek, no matter what time of year.
Become our Bishkek Travel Expert
We are looking for contributors for our Bishkek travel guide. If you are a local, a regular traveller to Bishkek or a travel professional with time to contribute and answer occasional forum questions, please contact us.
Intrepid Travel is one of the world's leading suppliers of small group adventures focused on getting off the beaten track and having real life experiences in Kyrgzstan.
ADVERTISEMENT
---