Luang Prabang Travel Guide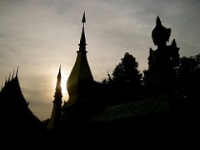 Sunset in Luang Prabang © Thomas Wanhoff
Encircled by mountains and charmingly situated at the meeting of the Mekong and Khan Rivers, Luang Prabang, the 'Jewel of the Mekong', conveys an atmosphere of remote serenity and informal splendour. Its main attraction is its old temples and the thriving religious life of its people, which seems to endow everything with meaning.
The heart of a powerful kingdom for more than a thousand years, today it is a sleepy mixture of ancient temples, cobbled lanes, interesting backstreets, French-Indochinese architecture and ochre-coloured colonial buildings. Trees line the streets above the banks of the river where children swim and play, while farmers carefully tend to their tiny, irregular riverside plots of agricultural land. In the mists of dawn, throngs of barefoot orange-robed monks silently make their way from the monasteries to the streets, where locals wait to gain spiritual merit by filling their wooden alms bowls with rice, before disappearing once again into their places of refuge and meditation. Unhurried people drift past stalls of spicy papaya salad, noodles, omelettes and fruit drinks. Luang Prabang gives visitors a taste of the real Laos; it is an ancient city with a distinctly village-like feel, endowed with a historical legacy so rich that it has been designated a UNESCO World Heritage Site. Tourists to Laos simply shouldn't miss this unique and fascinating city.
Become our Luang Prabang Travel Expert
We are looking for contributors for our Luang Prabang travel guide. If you are a local, a regular traveller to Luang Prabang or a travel professional with time to contribute and answer occasional forum questions, please contact us.