Vang Vieng Travel Guide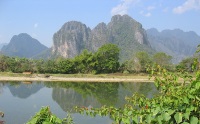 Vang Vieng © Grossbildjaeger
The small, laid back town of Vang Vieng is spectacularly situated on a bend of the Nam Song River, surrounded by green agricultural fields, friendly Hmong and Yao villages, and mountains that hold fascinating limestone caves. Once no more than a bus change on the long journey between the capital Vientiane in the south and the UNESCO World Heritage Site of Luang Prabang in the north, Vang Vieng is now a tourist destination in its own right, especially appealing to backpackers and younger travellers.
Magnificent scenery, the mighty river, and numerous caves and caverns in the surrounding limestone mountains are the main tourist attractions, and several guesthouses organise guides to explore them (or else visitors can hire bicycles and motorbikes and go adventuring on their own). The cave of Tham Phou Kham, set in a limestone cliff, contains a bronze Buddha inside the main cavern, and is one of the more interesting caves to visit. To get there is part of the enjoyment, with river crossings on precarious bamboo footbridges, past rural villages and between shimmering rice fields, surrounded by exquisite scenery of fresh and vivid colours. The cave of Tham Pha Thao is for the more adventurous, and involves wading through a deep subterranean stream past enormous stalactites and stalagmites. Another fun and popular activity in Vang Vieng is floating down the river on inner tubes.
Vang Vieng is an ideal stop-off point on the Vientiane to Luang Prabang route, combining shy but friendly people, a beautiful rural setting, and enjoyable outdoor activities.
Become our Vang Vieng Travel Expert
We are looking for contributors for our Vang Vieng travel guide. If you are a local, a regular traveller to Vang Vieng or a travel professional with time to contribute and answer occasional forum questions, please contact us.