Vientiane Travel Guide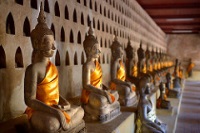 Wat Si Siket © snotch
Life in Vientiane, the modest capital of Laos, flows along as languidly as the Mekong River, on the banks of which the city is situated. Resembling more a sprawling series of villages than an inter-connected urban metropolis, Vientiane is a sleepy place dotted with a mix of Laotian temples and French colonial buildings, most of them crumbling into decay. Paddy fields still dot the outlying suburbs and even intrude into the city centre in places. Downtown is characterised by narrow lanes that run off the main streets, where bakeries sell croissants alongside vendors touting noodle soup and sticky rice.
Most of the city's places of interest are concentrated in a small area in the commercial district, easy to explore on foot, between the bamboo-and-thatch beer gardens on the riverbank and Talaat Sao, the morning market. Tourists to Vientiane will find that there are some fine Wats (temples) to visit, like Wat Si Saket, one of the city's oldest, surrounded by a lush tranquil garden. Other grand buildings include the Patuxai Monument, resembling the Arc de Triomphe, and the new Chinese-financed Cultural Centre. The Lao National Museum is worth a visit simply because it is a surviving example of a communist propaganda collection, while the Kaysone Phomvihane Museum is dedicated to Laos' famous post-war leader, but lacks English information.
Become our Vientiane Travel Expert
We are looking for contributors for our Vientiane travel guide. If you are a local, a regular traveller to Vientiane or a travel professional with time to contribute and answer occasional forum questions, please contact us.