Baton Rouge Travel Guide
Why? The official tourist website lists '101 Things to do' when you holiday in Baton Rouge, from swamp tours to visiting a doll museum. Apart from the many attractions, most travel to Baton Rouge simply to sample the charm of the old south, which this growing Louisiana city alongside 'Old Man River' (the Mississippi) still exudes in full measure. Foodies travel to Baton Rouge for the unbeatable Cajun, Creole, French and Mexican cuisine, which is served up at more than 900 restaurants.
When? Pack light for a holiday in Baton Rouge, but perhaps include a waterproof, because the climate is warm and wet all year round. The best time to travel to Baton Rouge is early spring, between February and April, when it is warm with lower humidity than is experienced during the rest of the year.
Who for? Whatever your interests, a Baton Rouge holiday will pique them. Sporty types will enjoy the many facilities, especially golf; night-birds can enjoy the river boat casinos and many hot clubs; sight-seers can explore old southern mansions and museums; families find thrills at the amusement park; and so on. Everyone will enjoy a holiday in Baton Rouge.
More Info: Our comprehensive Baton Rouge travel guide provides all the information required to plan a holiday in Baton Rouge with detailed entries updated regularly.
---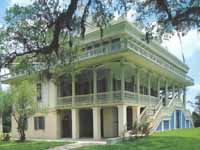 San Francisco Plantation ©
Situated about 75 miles (121km) northwest of New Orleans along Louisiana's winding 'Great River Road', Baton Rouge, the state capital, is in the middle of plantation country. Surrounded by sugar cane fields and grand plantation homes, haunted southern mansions and beautiful gardens along the banks of the mighty Mississippi, the city is filled with historic buildings and a vibrant nightlife.
Baton Rouge was named by French explorer D'Iberville about 300 years ago when he found a red stick on a bluff overlooking the Mississippi. Today the one-time swampland settlement is the fifth largest port city in America, known for its riverboat casinos where high-stakes gambling, stage shows and Cajun cuisine reign supreme. The city has an academic side too, being home to Louisiana State University and Southern University, the largest historically African-American university in the nation. There are museums aplenty, art galleries, a planetarium and active theatre and ballet companies to complete the scene in this dynamic and diverse city. Incidentally, Baton Rouge also has the tallest capitol building in the United States, an art deco building dating back to 1932 that stands 34 stories high.
Become our Baton Rouge Travel Expert
We are looking for contributors for our Baton Rouge travel guide. If you are a local, a regular traveller to Baton Rouge or a travel professional with time to contribute and answer occasional forum questions, please contact us.