Antananarivo Travel Guide
Antananarivo travel Forum
---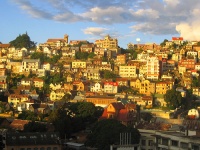 Antananarivo © oledoe
Shortened simply to 'Tana', Antananarivo is the bustling capital of Madagascar, set among the vast wilderness that sees an increasing number of travellers visiting this inspiring land. Meaning 'town of a thousand', Tana was named for the revered 17th-century King Andrianjaka who conquered several villages in the area, leaving a garrison of 1,000 men to defend his new territory.
Built on hillsides and ridges Tana is the main entry point for visitors travelling to Madagascar, although not many tourists spend more than a couple of days here, either at the beginning or end of their holiday, as Antananarivo is not an easy place for first time visitors, with surprisingly little in the way of tourist infrastructure despite being the capital. Sights worth seeing include the Royal Hill of Ambohimanga, the Prime Minister's Palace and Rova, the old shell of the Queen's Palace which was severely damaged by arson in the 1990s.
Shopping in Antananarivo is a fun experience with stores, bustling markets, shopping centres and hawkers vying for patronage. The Zoma Market, which is held daily, was once claimed to be the second-largest in the world, and is definitely worth a visit for those wanting to get some souvenir shopping done. Tana Market is also popular and sells exquisite local handicrafts and artefacts made of sea shells and corals. Head to the top and bottom of Avenue of Independence for some fantastic stalls where popular Madagascar souvenirs such as woodcarvings, oil paintings, hand-loomed fabrics, cotton, silk, embroidery and woven straw items like baskets and hats can be found. The bright colours of the fabrics draped across tables make for an unforgettable and very colourful shopping experience. Haggling is expected but, as a tourist, be prepared to pay more for items than locals. Beware of pickpockets in the bustling markets, and brush up on your French as this can come in handy when bartering with the locals.
With a distinctive French flavour, a mish-mash of red-brick houses scattered all over the hillsides, and nineteenth-century churches dotted around the maze of small, winding streets, Tana has its own inimitable charm and is an attraction in itself. Visitors should be on guard against opportunistic crime as poverty levels are high in the city.
Become our Antananarivo Travel Expert
We are looking for contributors for our Antananarivo travel guide. If you are a local, a regular traveller to Antananarivo or a travel professional with time to contribute and answer occasional forum questions, please contact us.
Intrepid Travel is one of the world's leading suppliers of small group adventures focused on getting off the beaten track and having real life experiences in Madagascar.
ADVERTISEMENT
---