Nosy Be Travel Guide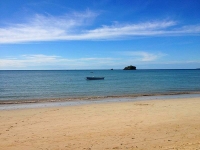 Beach at Nosy Be © Frontierofficial
Nosy Be, meaning 'big island' in Malagasy, is located off the northwest coast of Madagascar and is a must for all visitors to the country. It is home to Madagascar's busiest and largest tourist resorts and a good destination for a romantic beach getaway, with much better amenities and accommodation options than most of the country.
Featuring spectacular beaches such as Madirokely, Belle Vue and Andilana, Nosy Be also has some impressive coral reefs, which make it a popular choice for scuba divers and those who want to try some snorkelling. The island is also known for its verdant tropical forest which is teeming with a diversity of wildlife; the Lokobe Natural Reserve is a gem where fantastic bird watching opportunities abound and a great variety of animals, including the beloved lemurs, can be found. Nosy Be also offers volcanic lakes, great hiking and mountain biking trails, rum distilleries, Ylang Ylang plantations and, in May, the four-day Donia Music Festival, which is a treat for music lovers.
Visitors to Madagascar often don't venture far beyond the beautiful island and it isn't hard to see why. Although it can get crowded, Nosy Be still has a sleepy, laid-back atmosphere and hasn't been ruined by its resorts.
Become our Nosy Be Travel Expert
We are looking for contributors for our Nosy Be travel guide. If you are a local, a regular traveller to Nosy Be or a travel professional with time to contribute and answer occasional forum questions, please contact us.
Intrepid Travel is one of the world's leading suppliers of small group adventures focused on getting off the beaten track and having real life experiences in Madagascar.
ADVERTISEMENT
---