United States of America

---

---

---

---
Maine Ski Resorts Travel Guide
Maine Ski Resorts travel Forum
---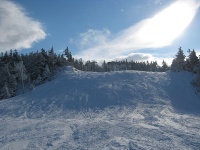 Sunday River © Ams100272
Holidaymakers in the northeastern United States looking to carve some fresh powder on some of North America's finest slopes need look no further than the northernmost state of Maine.
The ultimate winter ski holiday awaits and with picturesque Alpine areas and some of the finest skiing in the United States, even rivalling that of the famous Pacific North West's Rocky Mountains, resorts such as Sugarloaf, Saddleback, Sunday River, Shawnee Peak, Big Rock and Mount Jefferson bring crowds flocking to enjoy some unique New England skiing. Sunday River is generally one of the first ski resorts to open for the season, offering visitors about 743 skiable acres on which to carve out their skills. For those looking for the most skiable terrain, Sugarloaf is the one to go for; with its Brackett Basin expansion and 1,153 acres of skiable territory it makes for a popular choice.
From amateurs and intermediates to those looking to make their way down pristine black diamond runs, there's a skiing or snowboarding opportunity for everyone.
Become our Maine Ski Resorts Travel Expert
We are looking for contributors for our Maine Ski Resorts travel guide. If you are a local, a regular traveller to Maine Ski Resorts or a travel professional with time to contribute and answer occasional forum questions, please contact us.